Investment bank Nordea Markets recommends that customers buy shares in Austevoll Seafood rather than in the subsidiary Lerøy Seafood Group.
Nordea Markets upgrades Austevoll Seafood to Buy from Hold, while Lerøy Seafood is upgraded to Hold from Sell. This appears from analyzes on Thursday according to TDN Direkt.
"We have long advocated the 'buy the holding company' argument, and believe this has been reinforced by the rising prices of fishmeal and fish oil. Compared to a direct investment in Lerøy, "non-Lerøy" assets in Austevoll offer a natural hedge against rising feed costs in Lerøy thanks to Austevoll's exposure to pelagic fisheries and the associated land-based industry of processing pelagic species into fish oil and meal," writes the investment bank.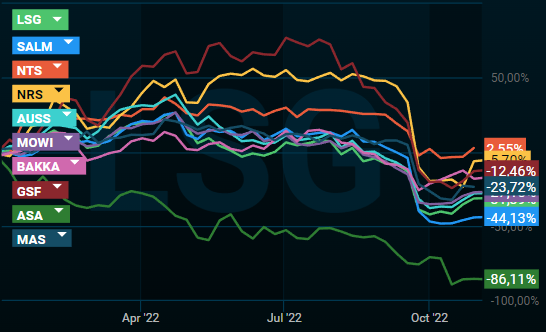 Austevoll Seafood owns 52.7 percent of the fish farmer Lerøy Seafood Group.
About Lerøy Seafood, Nordea Markets writes, among other things, that they assume a price achievement of NOK 66 per kilo compared to the spot price for the third quarter of NOK 70 per kilo. In addition, increased costs are expected on an annual basis.
"In the short to medium term, the investment case is less appealing due to high uncertainty related to salmon farming taxation in Norway, especially because the contract market is currently approaching non-existence for 2023. Furthermore, we estimate an EBIT that is around five percent lower than the consensus for the third quarter, which creates risk in the numbers in the short term," writes Nordea Markets.