Heroic work from staff saves hatchery stock.
At about 11:30pm on Christmas Day, an alarm for low water was activated on the ponds at the Washington Department of Fish and Wildlife's Kendall Creek Fish Hatchery near Deming.
With temperatures below freezing and blizzard conditions outside, Fish Hatchery Specialist Kristofer Flowers responded, surveyed water levels, acknowledged and reset the alarm without incident, and returned home sometime after midnight, according to an account of the dramatic night from the Washington Department of Fish and Wildlife.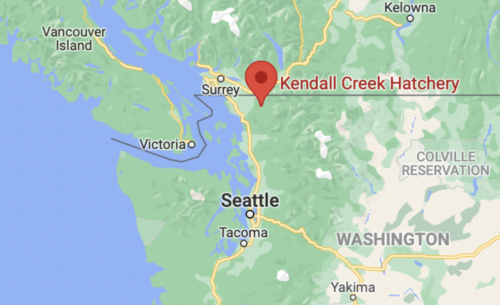 Later that night, however, at about 12:30am, another alarm went off, this time for production water pump No.4. Despite snow drifts several feet deep, Flowers once again responded again to the pump site, where a warning light was now activated.
The emergency stop was reset, and the fault light went out, but when the pump's start button was pushed, a loud winding sound came from the motor, followed by a loud boom and flames shooting out of the top of the pump.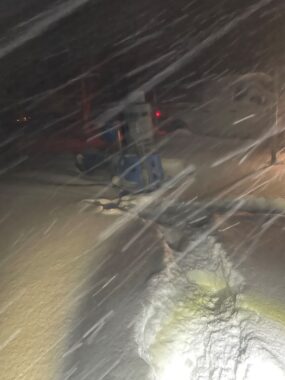 Flowers immediately pressed the emergency stop button, and an emergency generator started up, indicating a loss of power. Later it was discovered that the main power feed from the PUD was tripped and needed to be reset, after which the emergency generator shut down normally.
While power was now restored, the loss of pump No.4 resulted in 2,000 gallons of water per minute no longer being provided to several rearing ponds and incubators for chinook, coho, steelhead, and trout, putting millions of young fish at risk in the middle of a bitterly cold night on a holiday weekend.
In freezing conditions
Flowers worked quickly to redirect water from other pumps and rearing ponds; a challenge in the extremely cold conditions as several valves were frozen, buried under snow, or both. Eventually he was able to offset the loss of pump No.4's water flow, and after checking on incubation tanks, returned home around 2.30am. Fellow Fish Hatchery Specialist Jesse Lee also offered backup around this time.
Unfortunately, at 3 a.m. another alarm was activated, this one for production water pump No.5. After returning and assessing the situation, Flowers determined this pump was not going to work properly, and he shut it down so as not to risk another fire in the motor like the one that had happened to pump No.4.
With pump No.5 now off, Flowers once again shifted to mitigating the loss of water supply to rearing ponds and incubator tanks containing young salmon and trout, while also carefully monitoring dissolved oxygen levels over several hours to prevent harm to sensitive fry (baby fish) and eggs.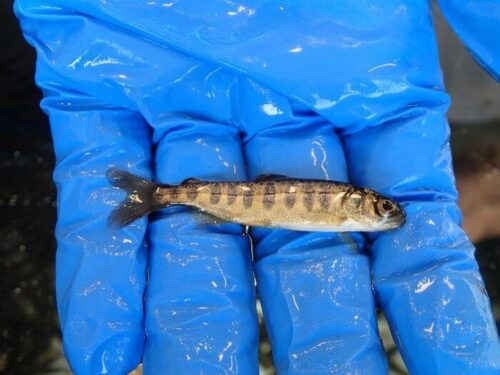 Stuck in the snow
Meanwhile, heavy snow continued to fall outside, and by Sunday morning vehicle access to the hatchery was becoming ever more difficult. Flowers began plowing snow with a Department Ford F-450, and then switched to a tractor once the truck became stuck.
Despite the worsening weather and road conditions, Lee and another fish hatchery specialist, Kevin Clark, arrived to provide additional support. Together they were able to stabilize water levels at the affected rearing ponds and incubator tanks, and additional WDFW staff and local companies are now preparing long-term repairs to the hatchery's pumps.
The failure of these two water pumps put at risk 1.5 million spring Chinook salmon, 850,000 Nooksack River coho yearlings, 1 million coho in incubation, 100,000 early-winter steelhead, 375,000 Kendall Creek coho, and "a bunch of trout," according to WDFW regional Fish Program staff.
Vital stock
All told, the quick thinking and hard work of Flowers and the others protected nearly 4 million young fish – vital for future recreational, commercial, and tribal treaty fisheries, and important for species including Southern Resident killer whales.
"Kendall Creek Hatchery is still the best place to live and work, and we will survive," Flowers said after his exceptional efforts through Christmas night and the following day. "I believe our salmon and steelhead deserve the efforts WDFW and co-managers have made so far, and look forward to what comes next."