Hefty premium for overseas shipping.
The war in Ukraine has created major challenges for air freight of salmon from Europe to East Asia. Several of the most central air corridors cross Russian and Ukrainian territory, and the charterers have, as a result of the ongoing war, had to divert their flights.
According to the transport company DB Schenker, air freight capacity has been reduced by 20 percent "overnight". At the same time, the airlines have had longer flight times, reduced capacity and more expensive fuel.
Read also: This is how the Ukraine war hampers the air freight of salmon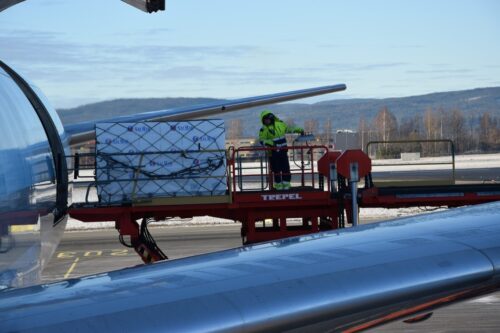 China is one of the leading importers of airborne salmon. The country also has a rigid handling of salmon related to covid-19 restrictions. This, combined with the aforementioned air freight challenges, contributed to Chinese importers paying up as much as NOK 114.38 (EUR 11.4) per kilo (delivered to the Norwegian border) for salmon imported from Norway last week, according to export statistics from the Norwegian Seafood Council.
China imported 557 tonnes of fresh salmon via air freight in week nine. This corresponds to 30 fully loaded trucks.
However, it was not just Chinese customers who had to pay dearly for the airborne salmon.
South Korea paid NOK 107.89 (EUR 10.7). Vietnam (NOK 103.28), Israel (NOK 99.99), South Africa (NOK 99.80), USA (NOK 97.90), Thailand (NOK 97.26), Singapore (NOK 96.67) had to also pay a significant price premium for the fish.
The average export price (delivered to the Norwegian border, including fixed price contracts) was NOK 83.80 (EUR 8.4) last week.
Air freight salmon is primarily large salmon, packed in a somewhat more expensive packaging than ordinary boxes.