Americans are cutting back on visits to restaurants to offset rising costs, impeding the recovery of restaurants, where 70 percent of seafood is consumed.

The first-ever comprehensive view of the US food market released on Tuesday shows
the rise in the cost of food consumed at home (up 13 percent) outpaced that of dining out (up 7.6 percent), yet dining out still costs three-times more.
"Even with the impact of elevated grocery prices, dining out is still much more expensive than eating at home," said David Portalatin, senior vice president and industry advisor for Food and Foodservice for The NPD Group, which prepared the report with analytics and data provider IRI. (The firms merged earlier this month.)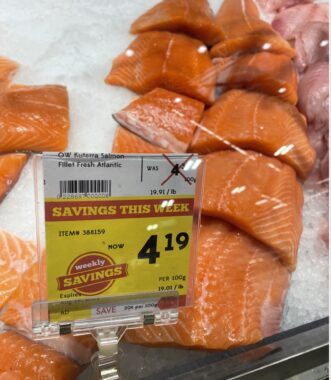 With 70 percent of seafood consumed away from home, where does that leave this protein?
The $1.5-trillion-a-year "dining-out" sector still holds attraction and, with that, an opportunity for seafood, says Mark DiDomenico, region director at Datassential, a Chicago-based food and beverage market research firm.
"Consumers are saying that they're going to pinch pennies, but I do think that dining out is not going to be as hurt as bad. When people do go out, they are going out for more of a treat, more of an expensive meal. And we know that in those instances, seafood, especially salmon, plays pretty well. It tends to be a great protein alternative to steak or chicken," DiDomenico told SalmonBusiness on Wednesday.
Read also: US fresh salmon sales up 4 percent in units as price per lb goes down by 1.5 percent
Convenience
He said eating out also simplifies life for households.
"I do think that the away-from-home experience is offers value in convenience and time, as well as the ability to try something that you may or may not be able to produce at home," he says.
"What those numbers don't take into account are some of the additional costs associated with making a meal at home: the effort and the waste. You might buy a pound of ground beef and you end up using just a third of it or, if you're lucky, you end up with leftovers. Otherwise it's usually thrown out. Likewise with any vegetables or anything else that you buy. There's all the effort to prepare and, then again, there's going to be some waste involved in."
Consumers keen on price per lb
Volume sales of fresh salmon have gone up for the first time in four months as price per lb declined 1.5 percent in the last four weeks, as SalmonBusiness reported on Tuesday.
Read also: Why seafood is the biggest loser vs other animal proteins in latest American food spending
According to Rick Stein, vice president of Fresh Foods at FMI—The Food Industry Association, American consumers will continue to watch the price per lb.
"Consumers are concerned about the price per pound, which on many seafood products is quite expensive. I mention it is the price per pound and not the price per portion that consumers are focused on. I do believe that as restaurants continue to raise their prices, the seafood sales in grocery will come back," Stein said in an email.
The US food market – food consumed at home and away from home –is forecast to grow around 8 percent this year.