Faroese salmon farming company Bakkafrost has not been spared from the panic selling in Oslo-listed salmon producers, prompting it to issue a statement on Wednesday that it does not operate in Norway.
The announcement that the Norwegian government is planning to introduce a resource tax on salmon and trout farming has wiped out roughly $5.2 billion in shareholder value on Wednesday. Bakkafrost's share price fell by 3.8 percent to €45.86 at some point in the day, but recovered to €47.70, representing a fall of less than 2 percent, at the close of business.
It is hard to know exactly what spooked its investors, but it worried Bakkafrost enough to issue a statement that it is not affected by the proposed new taxes in Norway. But it could also be the anticipated tax adjustment on Faroese salmon producers, which Bakkafrost said the government is contemplating.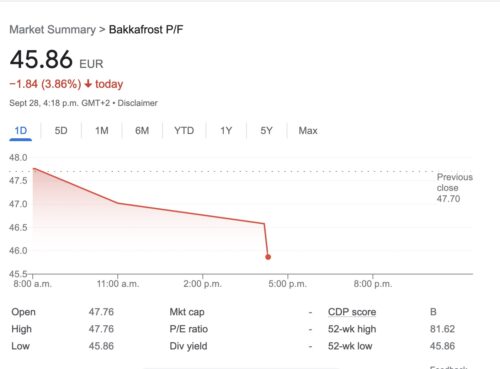 Read also: Historic collapse: Political decision wipes out millions in salmon shareholder values
"Bakkafrost is subject to tax in the countries where Bakkafrost operates. This does not include Norway," the company announced on the pan-European bourse, Euronext.
"Since 2014, the salmon farming industry in the Faroe Islands has been subject to
a special revenue tax on the value of harvested fish calculated using actual
salmon spot prices. The current tax rate is between 0.5 percent to 5 percent depending on the salmon spot price."
But the company said a "tax adjustment" may be forthcoming in the Faroe Islands to reflect the recently high salmon prices and the increasing production costs for the salmon industry. The proposal has not yet been presented to the Parliament for voting, it added.