A marine-based steelhead trout producer in Atlantic Canada is set to make its first harvest this summer following a two-year pandemic-induced hiatus.
Headquartered in Halifax, Nova Scotia, Ocean Trout Canada has two marine sites in Newfoundland and one in Nova Scotia, which altogether have a capacity of 1,000 tons.
"We harvested our last batch of fish in January of 2020, then covid hit," CFO Chris Grimes-Goard told SalmonBusiness. "We just didn't restock because we didn't know what was going on. We waited until the right market opportunity came along and it took a bit of time to get the wheels in motion again."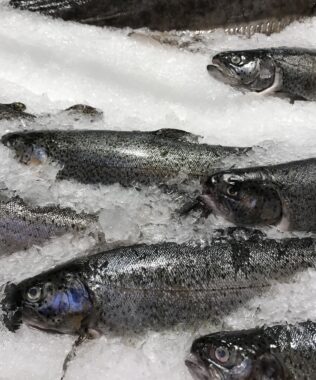 First harvest
This summer, Grimes-Goard expects the first harvest from the first stocking made in November 2021. The company will market the anticipated 300kgs of steelhead over the next 18 months. The fish are harvested in 1.5- to 2-kg range and supplied in head-on gutted format.
"We're primarily focused on the North American market, starting in Canada and, as production increases, we will penetrate the northeastern US market. Everyone's looking to address this market opportunity and we just happened to be a lot closer to those big markets than everybody else," he said.
Steelhead prices pulled up by Atlantics
Grimes-Goard said the North American market dynamics and pricing context are exceeding the company's original expectations.
"We've seen record high prices for Atlantic salmon and the prices of trout and steelhead have been pulled up along with that. The original business case was contemplated in 2015 to 2020 timeframe and what we've seen is that the cost of food is moving in a positive direction. If you talked to us in 2019, we have a completely different pricing route. We believe the environment will remain robust for some time as the demographic changes, population growth and healthy protein demand trends continue to be constructive," he said.
But while feed prices have also gone up, Grimes-Goard said the company is cost-competitive. "It's great when the fish prices are higher and, while the feed prices are higher, we've got a pretty robust business plan," he said.
Growth ambitions
The imminent harvest marks a milestone in the company's ambitious growth plan, which is aimed at establishing a significant steelhead trout production presence in Atlantic Canada.
Privately-owned Ocean Trout Canada has over a million juvenile steelhead trout at various stages in their lifecycle at its marine sites. It expects to stock additional marine sites this fall.
"We plan to continue to build our inventory. We've embarked on a strategic development plan aimed at upgrading and expanding our freshwater production capacity to support the stocking additional production sites in Atlantic Canada," said Grimes-Goard.