A hybrid feed barge which slashes carbon emissions has been deployed on one of Scotland's newest organic salmon farms.
The hybrid barge has been deployed at Cooke Aquaculture Scotland's Mill Bay organic site in Stronsay, Orkney. Inverness-based aquaculture supply company Gael Force Group worked in partnership with Norwegian sustainability leaders Fjord Maritime, to develop the hybrid technology.
Under the system, an auxiliary diesel generator will only operate to recharge batteries on the barge which is then used to power the barge and the electrical demand of the seawater site.
In 2019, Cooke initiated a review of barge power as part of their ISO 14001 environmental management objectives to explore alternative sources of power supply to the company's seawater sites in Orkney and Shetland.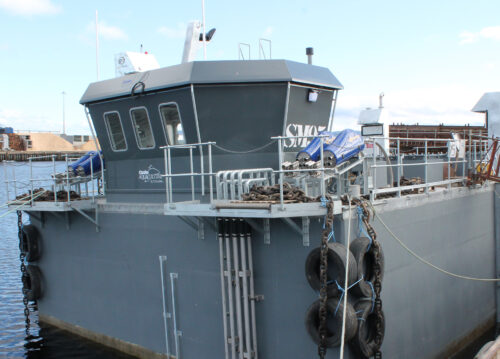 The identified hybrid battery solution automates power supply and optimises use of generators, batteries, electrical drives and control systems. Modelling confirms that this will reduce generator run time by up to 90 per cent and fuel consumption by up to 60 per cent. This one barge is expected to achieve carbon savings of approx. 146 ton CO2 ever year, equivalent to removing 55 cars from our roads every year.
For Cooke, this is the first hybrid barge the company has deployed in the UK. For Fjord Maritime this is their first time their hybrid technology has been deployed outside Norway. And for Gael Force this is their first fully hybrid feed barge delivered in the UK.
The hybrid technology developed by Fjord Maritime has been deployed on more than 100 barges in Norway in recent years but it is now coming to Scotland for the first time.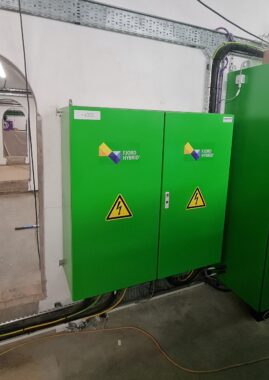 "Cooke Aquaculture is committed to sustainability. Farm-raised salmon already have one of the lowest carbon footprints but there is always more we can do to minimise any impact on the environment and play our part in tackling climate change. This is a significant investment but one that makes economic and environmental sense," Stewart Rendall, North Isles Manager at Cooke Aquaculture Scotland said.
"Our new hybrid feed barge in Orkney has been developed by partners with a strong track record and we have a high degree of confidence in the expected performance of our new hybrid barge. We are already exploring options to deploy this technology on other barges across our fleet in Orkney and Shetland which would further lighten our carbon footprint," Rendall added.
"The Fjord Hybrid solution will be operated remotely through Fjord Maritime's Fjord Control system. The solution continually transmits information about status and any unexpected events, meaning any necessary corrections can be performed remotely and in real time, thereby securing maximal uptime. You can also use the data collected to optimise energy consumption. This leads to further reduced operation costs in the production of fish," Øyvind Bakke, Chief Commercial Officer at Fjord Maritime said
"Our close partnership with Cooke Aquaculture Scotland continues to highlight the importance of sustainability to their business, as part of their aims and the way in which they carefully rear their salmon. As well as our capability to fully hybridise power across our range of concrete and steel feeding barges, both on new builds and retrospectively, Fjord Hybrid complements the barge's highly reliable SeaFeed system, which is designed to reduce feed waste and save on energy," Jamie Young, Sales Director at Gael Force said.