The fate of two missing fishermen off the Washington coast hung in the balance for an agonizing two weeks. 
A fisherman, lost at sea, has been found alive more than two weeks after disappearing.
The fisherman and his companion, who remains missing, left for what was to be a three-day excursion, departing from Grays Harbor in Westport, Washington state on Oct. 12 on their 43-foot vessel, the Evening.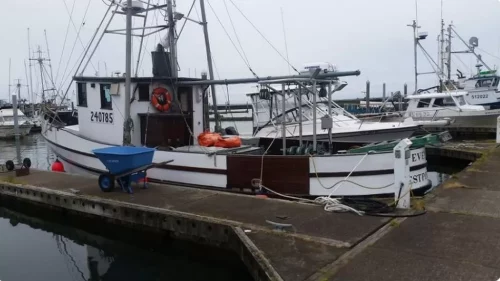 Days after their boat failed to return, the US Coast Guard launched a massive search.
Officials shared an image of the missing ship, a 43-foot fishing boat called Evening.
After scouring 14,000 square miles of ocean over eight arduous hours, the Coast Guard called off the search.
As the days passed, despair settled in, and it seemed the ocean had swallowed their vessel whole.
Officials shared an image of the missing ship, a 43-foot fishing boat called Evening
But destiny had other plans. A dramatic rescue unfolded when crew aboard the Canada-based Ocean Sunset spotted a life raft about 70 miles northwest of the shore.
The missing fisherman, who had endured 13 days adrift alone, was alive and somehow sitting upright in the lifeboat.
#BreakingNews (1/2) #UPDATE 1 of the 2 missing mariners was located alive in a life raft approx. 70 miles NW of Cape Flattery, by good Samaritans. The man was transported to shore by @CoastGuardCAN in coordination with @VicJRCC_CCCOS. He's reported to be in stable condition. pic.twitter.com/Qb2QhwIKb3

— USCGPacificNorthwest (@USCGPacificNW) October 26, 2023

Officials did not name the rescuers or how they found him, but King-TV in Seattle identified them as Ryan Planes and his uncle John from Sooke, a town on Vancouver island in British Columbia.
"I saw what looked like a life raft in the distance and ran inside and put the binoculars on him and then he shot off a flare," Planes told the media outlet.
"We pulled him on board. He gave me a big hug and it was emotional," his nephew continued. "We made him breakfast. He drank three bottles of water," he said.
"He was pretty hungry, poor guy."
The fisherman who said he had survived by catching and eating raw salmon, appears to be in stable condition, officials say.
The other mariner, who departed with him has not been found, and the Coast Guard says the incident "remains under investigation".
It is unclear whether they plan to resume the search.