The deployment marks the first retrofit installation of such technology on an existing barge in Orkney.
Cooke Aquaculture Scotland has installed a hybrid feed barge at its Vestness site in Westray, Orkney, the company announced on Wednesday.
The move is part of an initiative to reduce the company's environmental footprint, following the successful installation of a similar system at its Mill Bay site in Stronsay, Orkney in 2022.
The hybrid system, developed in collaboration with Norwegian sustainability leaders Fjord Maritime, utilises a mix of battery power and a diesel generator. The residual capacity from the generator charges the batteries while also feeding electricity to the facility. Once the batteries are charged, the generator stops, and the hybrid system powers the facility, leading to a significant reduction in fuel consumption and greenhouse gas emissions.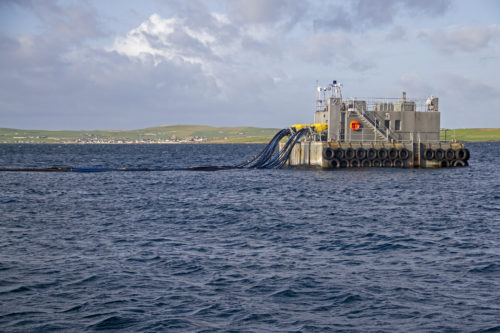 Data from the first year of operation at Mill Bay indicates a 40 percent reduction in fuel consumption, highlighting the effectiveness of the hybrid system in reducing emissions and operational noise.
The Vestness deployment marks the first retrofit installation of such technology on an existing barge in Orkney. "This significant investment underscores our dedication to sustainable practices," commented Stewart Rendall, North Isles Manager for Cooke Aquaculture Scotland.
The barge is anticipated to achieve an annual reduction of approximately 146 tons of CO2 emissions, equating to the removal of 55 cars from the roads each year.
Fjord Maritime's Managing Director for the UK, Steve Burns, echoed the sentiment, noting the installation as a practical step in sustainability.
"The upgrade of existing barges with technology that optimises energy production, reduces fuel consumption and GHGs, and diminishes noise pollution is a testament to Cooke's commitment to enhancing environmental performance," said Burns.
In 2019, Cooke initiated a comprehensive review of barge power, aimed at identifying alternative power sources for its seawater sites in Orkney and Shetland.
The hybrid system was deployed at both Cooke's Vestness and Mill Bay sites in Orkney by Inverness-based aquaculture supply company Gael Force Group.