Inverlussa Marine Services signs deal to acquire Salthammer work boat.
Workboat operator Inverlussa Marine Services has signed a deal to acquire an advanced new 18.5m-long vessel, the company announced on Thursday.
Launched by Norwegian boatbuilder Salthammer last week, Charlie Knight is poised for handover by the end of September and marks a significant upgrade for Inverlussa's operations.
The boat is built in anticipation of Scotland's move to larger infrastructure like 200m pens.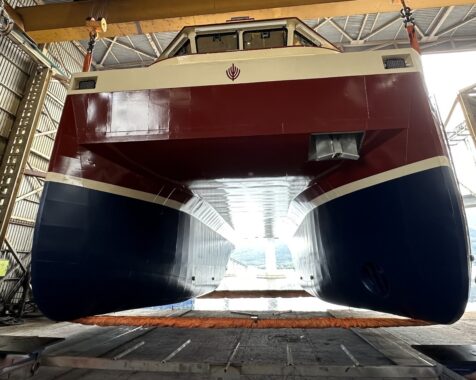 "Installing and maintaining grids for customers is a big part of what we do. As sites move to more exposed locations the equipment gets heavier, the requirement of the vessels increases and at Inverlussa we are always looking to be ahead of the game," Inverlussa Managing Director Ben Wilson told SalmonBusiness.
Notably, the 'Charlie Knight' will be the first boat in Scotland to be outfitted with SHM equipment, which includes load cells on its winches.
Load cells are used to monitor the tension or pulling force on the cable, wire, or rope being wound or unwound on the winch. By having a load cell on a winch, operators can ensure they are not exceeding the safe working load of the equipment, prevent overloading, and ensure the safety of lifting or pulling operations.
The vessel also ensures improved conditions for the crew with ensuite cabins, enhancing their on-board experience.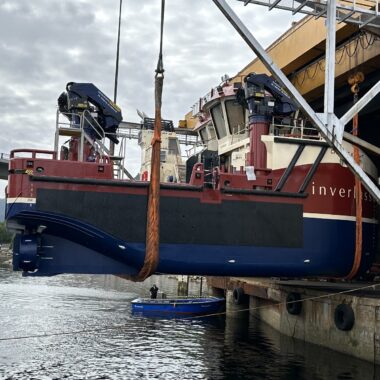 A division of the Inverlussa Shellfish Company, Inverlussa Marine Services is one of Scotland's leading workboat operators, with a fleet of modern vessels servicing contracts throughout the UK and Europe.
Salthammer is Norway's oldest shipyard and was founded in 1896 under the name L.H. Salthammer Batbyggeri.