Fish feed price at all time high. And the prospects for an imminent price decline are not particularly favorable.
Converted to Euro, it cost €1.32 for a kilo of fish feed in the fourth quarter of 2021, according to the average feed price achieved from BioMar's quarterly report which came out on Friday.
Rising prices for fish feed were a key driver behind BioMar's sales boost in the last quarter of the year.
«The increased turnover is based on a growth in the allocated quantities of 8% compared to 2020, supplemented by higher sales prices as a result of higher raw material prices. Compared with the previous year, the impact from changes in exchange rates has had a positive effect on turnover of approximately 140 million kroner, mainly in the fourth quarter,» the quarterly report states.
Record
This is the first time the average price for fish feed has exceeded €1.3/kg. Given a feed conversion rate of 1.2, it will cost €1.58 to feed one kilo of salmon or trout.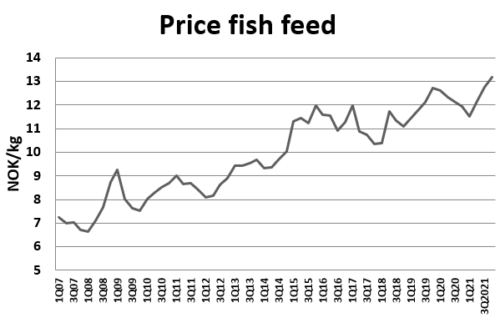 The prospects for cheaper fish feed soon are not particularly favorable. The raw materials have become even more expensive in the first quarter of this year.
The war in Ukraine means that the world's largest and third largest producer of wheat, Russia and Ukraine, respectively, is hampered from being able to supply the world market. The grain products are normally sent in bulk from the Black Sea ports. Many of these ports, and the waters beyond, are now war zones.
Prolonged
This in turn has resulted in a dramatic increase in prices for both shipping and underlying grain products and vegetable oils.
The two fighting countries are also major producers of corn, barley and sunflower, which are close substitutes for soybeans, which have also experienced rapidly rising prices.
The challenge for the supply side in the somewhat longer term is whether the war will be long-lasting. Then it will be demanding to sow new crops of grain products in Ukraine.
Weekly Price Sentiment – GrainStats Community 🤠

🌽Corn: Bullish
🌱Soybeans: Bullish
🌾Wheat: Bullish pic.twitter.com/PBKsIz93Hl

— GrainStats.com 🌾 (@GrainStats) March 9, 2022