Was stock exchange-sensitive inside information on the way for days before the government announced the resource rent tax on Wednesday?
In the days before the government hastily convened yesterday's press conference on the resource rent tax, there has been a flood of rumours on the topic, culminating in two editorials in VG and DN.
It may seem that many people, in the political environment, in the media and possibly also the financial market, have had precise information about the government's new tax package – well before the news was made public.
"To me, it is quite obvious that someone has had knowledge of this, knowledge they should not have had , the Conservative Party's parliamentary representative Ove Trellevik told SalmonBusiness on Thursday.
Serious
Trellevik received support from Sivert Bjørnstad, the parliamentary representative for the Progress Party and member of the Business Committee.
"It is very serious if it turns out that insider information has gone astray in this case," Bjørnstad told SamonBusiness.
Budget leaks are normal practice at the Storting, but not leaks of price-driving stock exchange-sensitive inside information. Disseminating such information may be illegal.
"The government should follow its own routines and try to clean things up if it turns out that errors or offenses have been committed," Bjørnstad continued.
"It is natural for the government to step in and provide an explanation as to whether this could be accidental or not. They are the ones who have the overview of who has known what, and when," he noted.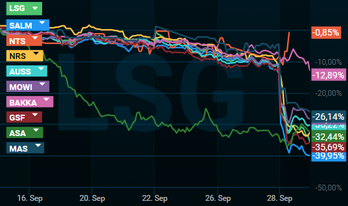 Loss of billions
The information about an upcoming resource rent tax may have influenced falling share prices for the salmon companies in the last ten days. When the news became known on Wednesday, the shareholders in the salmon companies lost an incredible NOK 55.9 billion (€5.6 billion) – in one day.
The Oslo stock exchange is looking into the matter, but did not wish to comment further.
"The market monitoring department at Oslo stock exchange monitors the daily trading and is tasked with reporting suspicions of market manipulation and insider trading to the Norwegian Financial Supervisory Authority. We always routinely look at trading patterns ahead of important announcements, but we do not comment on any findings that are made," Cathrine Lorvik Segerlund, head of communications at Oslo stock exchange, said.
SalmonBusiness has contacted the Ministry of Finance for a comment on the matter.