"Good biology is a prerequisite for good economics"
Leading land-based salmon farmer Salmon Evolution is set to produce salmon at a cost matching that of conventional netpen salmon farming.
In a video presentation of its Q3 results, the producer reported strong biological performance for the quarter, with a standing biomass of 2,100 metric tons as of the end of September, representing all-time high biomass growth of 1,290 metric tons.
In the third quarter the group recorded operating revenues of NOK 15.9 million ($1.5 million). Operational earnings before interest, tax, depreciation, and amortization (EBITDA) increased to a loss of NOK 24.6 million ($2.5 million) from a loss of NOK 20.8 million ($2 million).
"Mortality rates are the best indicator of fish welfare," said CEO Trond Schaug-Pettersen. "We are extremely satisfied to see that for both September and October we were within the target mortality range."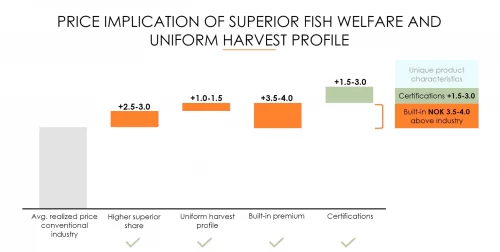 Q4 harvest volumes for the company are predicted to hit 1,000-1,200 metric tons. The company was also pleased with the 96 percent share of superior quality fish, said Schaug-Pettersen.
The company is intensifying work on other construction stages at Indre Harøy. The design phase is expected to be completed during the first quarter of 2024. Fully developed the company will produce 32,000 metric tons of fish at the facility.
Salmon Evolution has also entered into a joint venture with Korean industrial giant Dongwon Industries to develop, construct and operate a land-based salmon farming facility in South Korea with an annual production capacity of 16,800 ton, using Salmon Evolution's chosen HFS technology. The company has also initiated a process with the aim of establishing a land-based salmon farming operation in North America.