A land-based steelhead farm in upstate New York has for the past few weeks been delivering its salmon to Singapore Airline's in-flight catering arm at the JFK International Airport in New York.
Hudson Valley Fisheries, which began in a defunct indoor tilapia farm in the City of Hudson in 2014, delivers over 100 pounds to the airline weekly where they are transformed into appetizers and salad toppings for the airline's intercontinental passengers.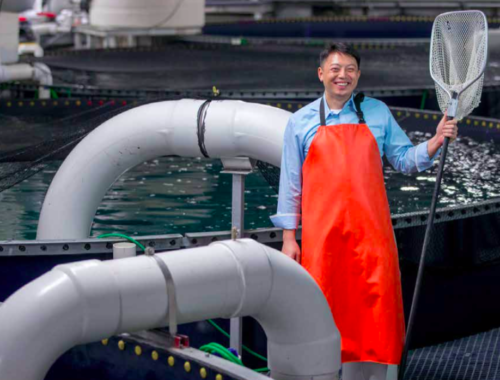 "We are proud to supply Singapore Airlines, one of the world's most prestigious and highly regarded airlines, in its Farm-to Plane program emphasizing premium local ingredients," company executive Heidi Raker told SalmonBusiness.
CEO John Ng led the company's pivot to online sales during the pandemic as restaurants, which account for 40 percent of the farm's business, shuttered.
"Our social media strategy of engaging our clients has grown not only the number of our followers but also our online sales. I believe there's a direct correlation between the two," Ng told this journalist  in an earlier interview.
Hudson Valley Fisheries made its first "true-market-ready" harvest (5,000 lbs of steelhead salmon) in the second quarter of 2018.
The northeast market's unfamiliarity with steelhead was a challenge for Ng in the early days. But he started seeing a shift in consumer acceptance over the past few years as its brand "New York Steelhead" gained traction in both mainstream and social media. Before long, it is featured in a New York Times piece and The Oprah Magazine.