Foodinflation hits the salmon market with full force.
"This is the sickest thing I have ever experienced in terms of price. But that there would be a relatively sharp price increase the first full week after Easter, I had not imagined that," says a salesman at a fish farming company to SalmonBusiness.[factbox]
"We have confirmed a 5-7 kg truck (part load) at 135 kroner (EUR 14) to Southern Europe," he says.
"Yesterday we talked about 120-122 kroner (EUR 12.5-12.7), but we saw quickly this morning that this was far too low. We try at 132-135 kroner (EUR 13.7-14), but it is easy to get 125 kroner (EUR 13) for the main sizes. We are pretty sure of getting 128 to 130 kroner (EUR 13.3-13.5) in Europe."
Ugly
For overseas markets (by air transport), the prices are even higher.
"I bet 140+ (EUR 14.6) in Asia," he says, but adds that he is humble for the record high prices.
"I have great respect for this is ugly for the customers. The ugliest thing we can see in Barcelona (seafood show – ed. note) next week are cocky salmon sellers," he says, and demands to be taken seriously.
He sees a number of reasons behind a price level that has doubled since the turn of the year.
"We see a strong increase in retail in the US, reduced harvesting volumes in Norway and Chile and rising prices for other protein substitutes. But it is still difficult to explain the sharp rise in prices. You can not see from the numbers that the price should be well up in the 100s."
"Price increases have to a small extent reached consumers. At Lidl and Aldi in Germany, UK are a typical contract market. There is a greater degree of long-term contracts in Europe than in the USA," he explains.
"Our customers are bleeding now, the middlemen, but I feel for them."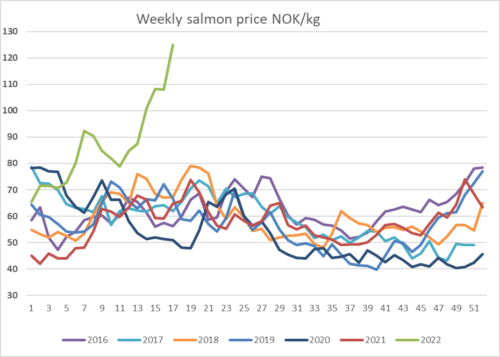 Insane
Next week there is a seafood fair in Barcelona. Many of the visitors have already come down to the Mediterranean.
"We're at the port of Barcelona. We came yesterday. The plane was full of fish farmers," says a trader.  "White wine and beer, we have got most of it really, as long as the farmers pay. It [the price] will rise even more next week. I hear prices of 118-124 kroner (EUR 12.2-12.8). We have bought fish for that."
"We only buy what we need. This is crazy. It's just completely insane all together. Customers are completely desperate," he adds.
A fish farmer confirms a farmgate price between NOK 125 and 130 kroner (EUR 13-13.5):
"That's completely correct. All over the market. It does not blink," he says.
Price jump
For the customers who buy the fish, it's tough.
"For Monday we expect another increase of about one euro per kg. There is expected a decrease at the end of next week," one Dutch buyer says.
"The question of one of my Danish suppliers is: How is it possible that the prices in the far north are the same on the same time as in the deep south [in Europe]. Who is informing who?" he asks.