Just after lunch on Thursday, NTS sent out a comprehensive presentation on the company, including subsidiaries Frøy and Norway Royal Salmon (NRS). There was little new in the presentation, at least for those who know the companies well. What had the highest news value was guiding harvest volumes for 2022 and 2023, which has not been clearly communicated before.
Here it appears that the estimated harvest volume for NTS 'fish farming division SalmoNor in 2022 is 34,750 tonnes and 39,000 tonnes for 2023. Both are for gutted weight.
NRS Oppdrett Norge is estimated to harvest 35,000 tonnes in 2022 and approximately 50,000 tonnes in 2023.
In Farming Iceland, the estimated harvest volume is 13,000 tonnes in 2022 and 13,000 tonnes in 2023, as well as the previously communicated harvest volume for 2025 of approximately 24,000 tonnes.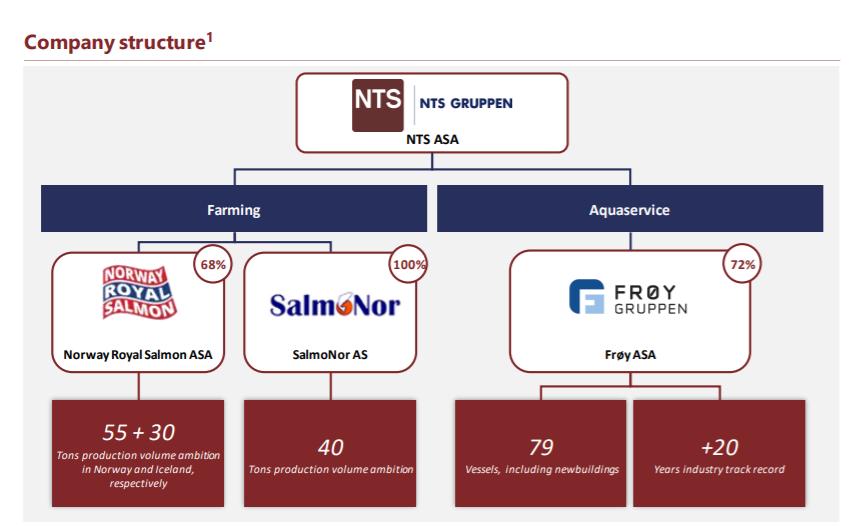 Timing
However, the most startling thing about today's message is not guiding harvest volumes. But the time at which it is done – one month before the presentation of the annual results.
The presentation is thus based on incomplete annual accounts, largely based on the report for the third quarter of 2021.
SalmonBusiness has approached the entire group management of NTS to get comment on why the company is giving such a thorough presentation right now. None of them have so far returned our inquiries.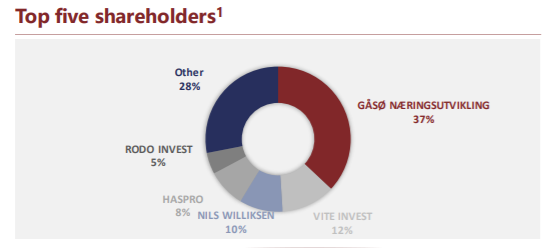 But there are many who follow the company closely.
A well-informed source informed SalmonBusiness as to why NTS is taking this step:
"Of course, several processes are underway. Everyone should have exactly the same information. One can not give one information to Mowi and another information to another actor. It is natural if one is to come up with bids. There are several teams that request updated information," he pointed out.
More solutions
"Now everyone can count on it, without reservation," he emphasized.
He points out that it is not a given that there will be a solution where a bidder gets 100 per cent.
"There may be several solutions. One can buy 100 per cent of NTS, one can buy majority or one can buy a smaller share. Many have the balance to buy something, but only a few can afford everything," he said, and refers to potential buyers, of larger or smaller parts of the business, such as SalMar, Lerøy, Cermaq, Bakkafrost and Grieg Seafood. As is well known, Mowi has already announced its interest through a bid of NOK 110 per share.
The point of the acquirer's balance sheet is particularly important, since NTS (including subsidiaries) has a significant debt burden. The total net interest-bearing debt, for the entire NTS Group, was NOK 12.6 billion (€1.3 billion) at the end of the third quarter. This is almost as much as the Mowi bid values ​​the company's equity – NOK 13.8 billion (€1.4 billion).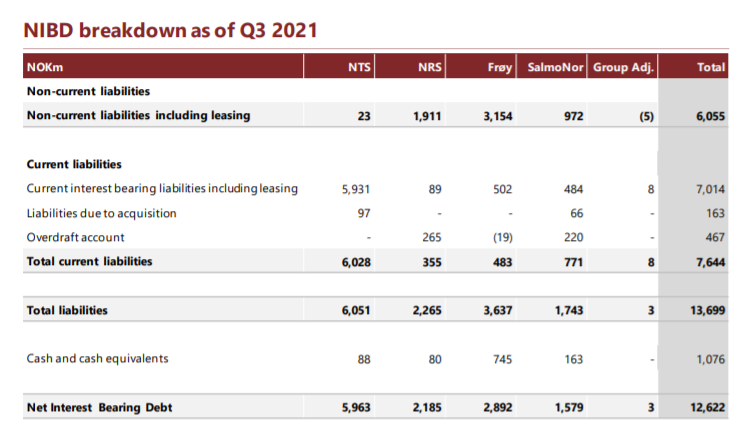 "It is not a given that every bidder wants the well boats," said the source, and added that these can of course easily be sold in today's market.
After the harvest guide and presentation became known, the NTS share fell 0.8 per cent, to NOK 118.50, while NRS rose three per cent, to NOK 190.60.