Former reporter completes purchase of English-language site from iLaks founder.
Leading aquaculture news service SalmonBusiness has relaunched following the completion of the site's purchase from parent company iLaks by former employee Matthew Wilcox.
SalmonBusiness was founded in 2017 by Aslak Berge and Trine Forsland as a free-to-view English-language version of Norwegian salmon farming news site iLaks.
In July 2023, Berge was approached about the possibility of selling the publication. After weeks of negotiation, the terms for a purchase were agreed. The purchase price has not been publicly disclosed.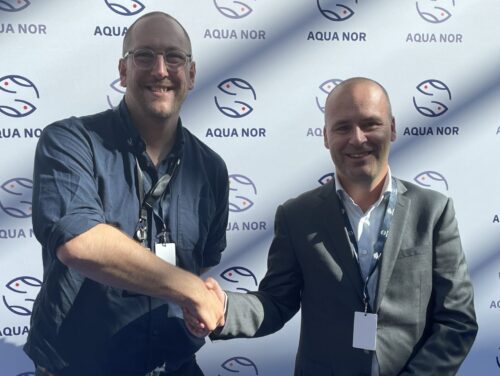 The new-look SalmonBusiness will continue the site's tradition of original reporting – offering an intelligent and reflective view of the global salmon farming industry.
"At SalmonBusiness, we are dedicated to providing a focused news service that champions the salmon industry", said Wilcox, who met with Berge to finalise the deal at international aquaculture show, Aqua Nor in Trondheim.
With global demand for salmon booming and the value of exports ever increasing, the need for a targeted, free to view English language news service is stronger than ever, he said.
"Our editorial policy aims to deliver accurate, insightful, and balanced coverage that highlights success stories, best practice, and industry developments."
SalmonBusiness is back.