The patience of pro- and anti-salmon farming Indigenous communities in British Columbia is starting to wear thin and their rhetoric getting salty as they and the farmed salmon industry await the federal government's decision on the fate of the 79 licenses expiring on June 30.
At the meeting of the Union of BC Indian Chiefs' (UBCIC) leadership on Friday, Fisheries and Oceans (DFO) Minister Joyce Murray faced intense pressure to remove open-net salmon farms in the province, as was promised by Liberal Prime Minister Justin Trudeau during his 2019 re-election campaign.
The advocacy body said that dwindling salmon runs have hit their communities hard, prompting them to purchase salmon in stores when the commercial salmon fishery is  closed by the DFO in order to rebuild wild stocks.
They stressed the need for urgent action on salmon conservation, with one chief going as far as saying it's time to sue federal and provincial governments over the disappearance of salmon.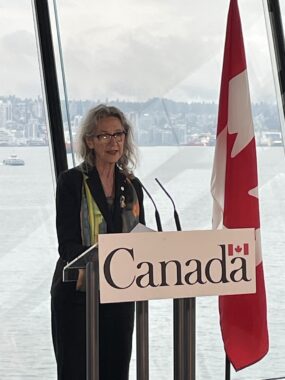 But Minister Murray said to get salmon farms out of the ocean is complicated. "There may just be some opposing views in this room as to how this transition should look," she said.
Indeed, not all First Nations communities in British Columbia are opposed to salmon farming. Seventeen First Nations have a variety of agreements and business arrangements with finfish aquaculture companies, with the longest going back over two decades.
The pro-salmon farming camp have their coalition, called the Coalition for First Nations for Finfish Stewardship (FNFFS), which is pushing for the renewal of the farming licenses for a minimum five-year term to give them time "to properly engage with our members, government and with the sector on 2025 aquaculture transition plans."
Both pro- and anti-farmed salmon camps claim they have had limited participation in the formulation of transition plans despite the federal and provincial governments' public statements about working with First Nations.
"We need to sit down and share what are the concerns, what are the things that need to be managed going forward, and as rights and title holders we will accept nothing less than having that debate as decisions continue to be made in our territory. And as we build more and more capacity, we're simply going to quit asking and we're going to start telling people how things are going to go in our territory," said Dallas Smith of the Tlowitsis First Nation and spokesperson for FNFFS, in a video testimonial shared on Wednesday by the BC Salmon Farmers  Association.
Murray acknowledged the role of sustainable aquaculture in feeding a hungry planet, but she said the industry's growth "cannot come at the expense of wild salmon."
"Ultimately our goal is to create an environment that incentivizes innovation towards new technologies, while at the same time working quickly to ensure that any potential interaction between wild and cultured fish are minimized or eliminated," she said.
Smith says pro-salmon First Nations "wouldn't do anything that would be against wild salmon."
"In fact, we want to see the technological relationship we have with Grieg Seafood advance to a point where we can work on wild salmon restoration while still providing sustainable protein for the rest of the world," he said.