Demand growth for salmon accelerated globally over the past nine years, with data from Mowi showing the value of salmon sold soared 120 percent from 2012 to 2021, while volume sales jumped by 45 percent.
Average growth rate per year (CAGR) was 9 percent in terms of value and 4 percent volume-wise.
Data from Mowi's 2022 Salmon Industry Handbook released on Thursday shows total consumption of farmed Atlantic salmon in 2021 went up by 8.3 percent over 2020 to around 2.6 million tonnes (GWT).
"In 2021 the value of salmon consumed recovered to a large extent from COVID-19 curtailments, however, some markets are still to fully recover in terms of foodservice consumption," the salmon producer noted.
Salmon markets
The United States remains the largest market by a wide margin at more than 600,000 tonnes consumed (whole fish equivalent), followed by France at less than 300,000 tonnes.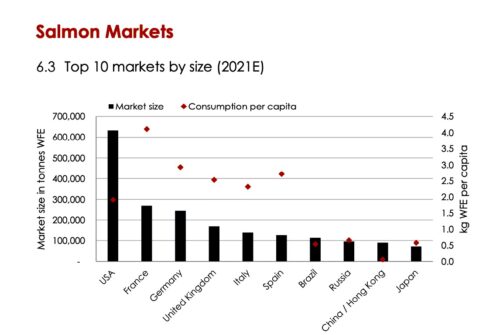 But French consumers maintained the top rank as the biggest consumers of salmon per capita (4.11 kg WFE). More than a quarter of the French population consume seafood once a week, with salmon being the most popular. Consumers in China and Hong Kong eat the least amount at 0.06 kg per capita.
By 2029, per capita fish consumption (all fish, not just salmon) is estimated to grow by almost 4 percent to 21.4 kg.  This, Mowi says, is equivalent to another 20 million tonnes of seafood supply, which aquaculture is estimated to provide.
Several megatrends will drive future consumption; these include population growth, declining wild fish supply, a growing middle class and the growing share of aging population that needs healthier protein. And salmon is well positioned to capitalize on these trends, said Mowi.
The 2022 Salmon Industry Handbook is now available for download.