The proposed design for the site includes nine 160-meter salmon pens and one 120-meter pen.
Scottish Sea Farms (SSF) – which is co-owned 50/50 by Lerøy Seafood Group and SalMar – is hosting a community meeting on Tuesday, 19 September to discuss its proposed £4 million-plus salmon farm, named Billy Baa, to the west of South Whiteness in Shetland.
The company intends to consolidate a number of its current sites into this new development, although the specifics on which sites will be included, whether active or inactive, remain undecided.
Read more: Scottish Sea Farms hopes £1.5m investment in larger pens will minimise jellyfish threat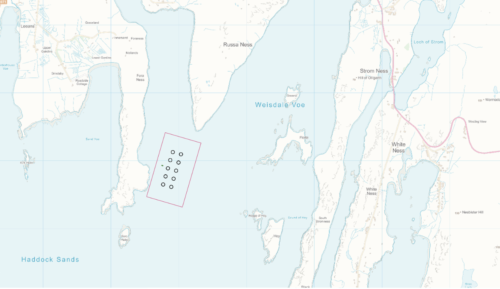 SSF's proposed design for Billy Baa includes nine 160-meter salmon pens and one 120-meter pen. These would be anchored by a 125-meter mooring grid, covering a surface area of 19,480 square meters.
Under PDR (permitted development rights) rulings that came in two years ago, salmon farmers are now able to apply to increase pens to a maximum circumference of 200m.
Larger pens allow for better water exchange and enhanced oxygen flow around the farms, leading to improved growing conditions for the salmon, while maximising operational efficiencies.
The new development promises to create at least six new jobs and would operate from the company's existing base at South Whiteness.
The company suggests that the consolidation of sites into Billy Baa could simplify operations, leading to increased efficiencies. Furthermore, SSF claims that with the proposed design, there would be more space between the pens, potentially benefiting fish health, welfare, and survival. The farm seeks permission for an indicative maximum biomass of around 4,000 metric tons.
Following initial discussions with the planning service, officials noted the need for an environmental impact assessment due to the farm's "significant size."