Norwegian Minister of Fisheries Bjørnar Skjæran has resigned from his post. 
Cecilie Myrseth, a parliamentary representative and member of the health and care committee, was appointed as Norway's new fisheries minister on Monday by Prime Minister Jonas Gahr Støre, succeeding Bjørnar Skjæran.
Myrseth, 39, hails from the Labor Party and has previously served as the fisheries policy spokeswoman for the party in the Storting.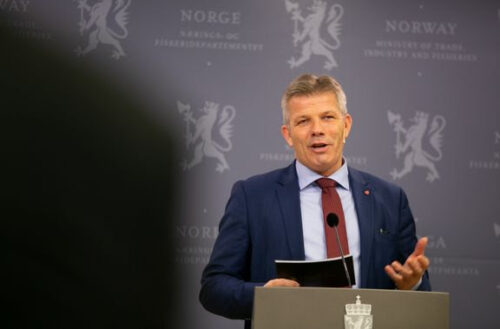 She has been serving as a member of the Storting (Norwegian parliament) for Troms since 2017, having won reelection in 2021. In her initial years at the legislative body, Myrseth was part of the Standing Committee on Business and Industry.
As of 2021, she holds a position on the Standing Committee on Health and Care Services, where she is the first vice chair, and is also a member of the Election Committee.
She steps into the shoes of Skjæran, the former deputy leader of the Labor Party, who is departing from the post. The transition is not of Skjæran's choosing, according to local media.
Myrseth's appointment is being closely watched by industry stakeholders, as they anticipate the direction and policies she will champion in an industry marked by environmental, economic, and regulatory challenges.
The Norwegian fisheries and oceans portfolio includes the aquaculture brief which plays a significant part in the nation's economy. Norway is the world's largest producer of farmed Atlantic salmon, harvesting 1.4 million metric tons of Atlantic salmon last year.