Norway's salmon and trout farmers strengthened their profitability from 2021 to 2022.
"It has taken time to build up what we have today," Åge Igland, general manager of Korshavn Havbruk, stated when SalmonBusiness's sister site iLaks visited him earlier this summer.
The company he has built up was the only one that delivered an operating margin above 50 percent among the country's fish farmers in 2021. 54.9 percent, to be precise. That is to say, the company earned €54.9 from operations per €100 sold.
Korshavn Havbruk was recently awarded a display concession , the first in Southern Norway, together with business partner Sekkingstad. The Sekkingstad family's part-owned harvest boat the "Norwegian Gannet" collects the fish from the cages just outside Farsund.
Climate footprint
"It gives a much smaller climate footprint for us that "Norwegian Gannet" gets the fish here. It would not be good if we had to transport all the fish by car and boat. "Ganneten" finishes collecting the fish at 11pm, so it takes five hours to get to Hirtshals. On the way, the fish is harvested and packed, so by 12 o'clock the next day, our salmon is in the store in Germany," Igland said.
Korshavn Havbruk tops the profitability list for 2021 in solitary majesty. It's a long way down to the next man.
Number two and three on the list are Øylaks and Ballangen Sjøfarm, with 41.4 per cent and 40.9 per cent respectively in operating margin.
Differences
SalmonBusiness has collected the annual accounts of 69 Norwegian fish farming companies. They reveal extensive differences. Four of them lost money on their operations last year. An unweighted average shows 18.9 per cent in operating margin.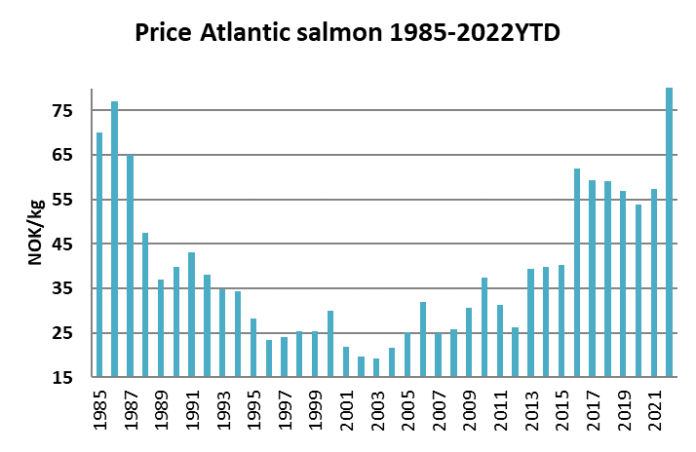 If you compare the results with previous years, 2021 was better than 2020. A significant part of the explanation is the increased salmon price – which rose by four kroner, from 53 (€5.5) to 57 kroner (€5.9), from 2020 to 2021.
But otherwise you have to go all the way back to 2012 to find lower profitability.
Here, too, inflation works. Farming costs have increased significantly in the last decade.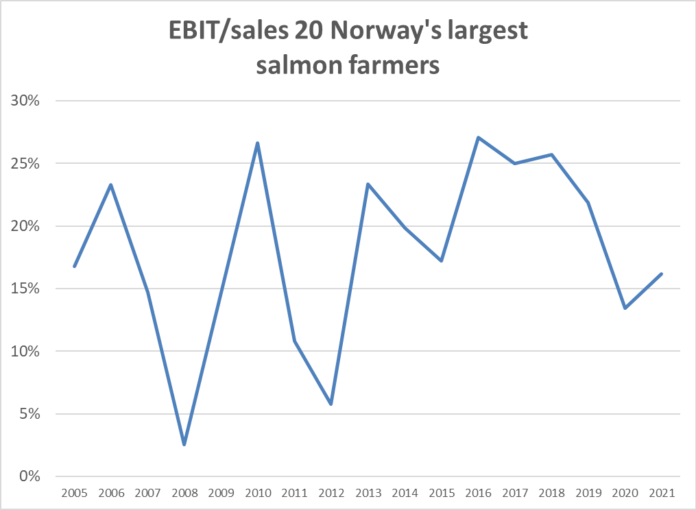 Jump
What about the year this year?
The vast majority of fish farmers SalmonBusiness has spoken to in connection with the results presentations this summer have been forward-looking and more or less promised a jump in results in 2022. The main explanation is the violent leap in salmon prices in the first half of the year.
During the last four months, however, the salmon price has fallen by as much as NOK 70 (€7.2). It can change the picture. Harvest profile, contract coverage and cost control will be key keywords when the profitability for 2022 is to be summarized in late summer 2023.
| | |
| --- | --- |
| | EBIT/sales 2021 |
| Korshavn Havbruk | 54.9% |
| Øylaks | 41.4% |
| Finnøy Fisk | 27.9% |
| Kobbvåglaks | 38.9% |
| Sandnes Fiskeoppdrett | 15.2% |
| Mortenlaks | -3.7% |
| Wenberg Fiskeoppdrett | 12.5% |
| Edelfarm | 16.9% |
| Flakstadvåg Laks | 27.4% |
| Northern Lights Salmon | 27.3% |
| Erviks Laks og Ørret | 14.5% |
| Sørrollnesfisk | 26.9% |
| Marø Havbruk | 16.8% |
| E. Karstensen Fiskeoppdrett | 17.1% |
| Sulefisk | 4.8% |
| Lovundlaks | 34.8% |
| Austevoll Melaks | |
| Eidesvik Laks | 23.7% |
| Flokenes Fiskefarm | 16.0% |
| Kleiva Fiskefarm | 2.5% |
| Gratanglaks | 14.5% |
| Fylkesnes Fisk | 31.3% |
| Osland Havbruk | 3.8% |
| Tombre Fiskeanlegg | 4.0% |
| Arnøy Laks | 20.3% |
| Steinvik Fiskefarm | 14.0% |
| Kvarøy Fiskeoppdrett | 13.7% |
| Selsøyvik Havbruk | 18.8% |
| Nord Senja Laks | |
| Langøylaks | |
| Eide Fjordbruk | 15.5% |
| Landøy Fiskeoppdrett | -3.4% |
| Svanøy Havbruk | 10.3% |
| Troland Lakseoppdrett | 4.5% |
| Blom Fiskeoppdrett | 1.5% |
| Egil Kristoffersen & Sønner | 15.6% |
| Bolaks | -5.2% |
| Hofseth Aqua | 3.8% |
| Bjørøya | |
| Quatro Laks | -2.0% |
| Vartdalgruppa | 0.0% |
| Nordfjord Laks | 23.7% |
| Aqua | 25.1% |
| Sjurelv Fiskeoppdrett | 38.1% |
| Telavåg Fiskeoppdrett | 24.9% |
| Øyfisk | 31.3% |
| Hellesund Fiskeoppdrett | 19.4% |
| Nova Sea | 26.4% |
| Firda Seafood Group | 18.0% |
| SalMar | 24.8% |
| Emilsen Fisk | 29.1% |
| Alsaker | 33.9% |
| Nordlaks | 34.3% |
| Ellingsen Seafood | 34.4% |
| Bremnes Seashore | 11.5% |
| Lingalaks | 16.7% |
| Midt-Norsk Havbruk | 28.9% |
| SinkaBerg-Hansen | 13.7% |
| Lerøy Seafood Group | 14.4% |
| Cermaq | |
| Mowi | 17.7% |
| Grieg Seafood | 13.7% |
| Norway Royal Salmon | 9.6% |
| Eidsfjord Sjøfarm | 38.2% |
| Måsøval Fiskeoppdrett | 18.1% |
| Salmonor | 32.3% |
| Ballangen Sjøfarm | 40.8% |
| Erko Seafood | 7.2% |
| Isqueen | 16.2% |
| Engesund Fiskeoppdrett | -6.6% |