Mowi is hard hit by new tax.
The world's largest salmon farmer, Mowi, sees its share price plunge 14 percent just after the Oslo Stock Exchange opens on Wednesday morning.
"The Norwegian government proposes to introduce a resource tax on salmon and trout farming of 40 per cent with effect from the tax year 2023 for volumes over 4,000/5,000 tonnes. With this proposal, the total tax rate for farming salmon and trout will be 62 per cent. Please note that this is a proposal that must be approved by the Parliament," writes Mowi in a stock exchange announcement.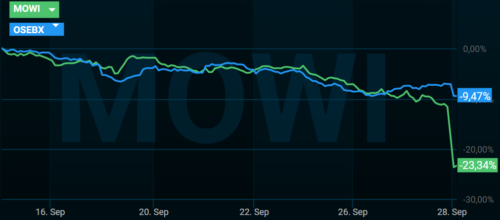 Pareto Securities estimates that earnings per share (EPS) for Mowi, SalMar, Lerøy Seafood and Grieg Seafood will be adjusted down by 15-30 per cent following the government's proposal to introduce ground rent tax.
Among the listed companies, the short-term effect will probably be greatest for SalMar, as a result of the relatively high share of profits from salmon farming in Norway, writes the brokerage house.
Carnegie is in line with Pareto in his estimates:
"The government expects increased tax revenues of NOK 3.6-3.8 billion in 2023, and our first calculations indicate a 20-25 percent reduction in 2023 EPS for the listed Norwegian players," the investment bank writes in a note.