For the first time in 20 years, the US dollar has the same value as the euro.
But for manufacturers of fish feed in North America, it doesn't mean much.
"That's because most ingredients in fish feed and other livestock feeds are priced in USD. However, it will mean the cost of feed in the EU will go up," says Brad Hicks, a partner at Taplow Feeds in Chilliwack, British Columbia.
Sales manager at Skretting, Aedrian Ortiz Johnson, says the impact of the USD reaching parity with the euro on the cost of feed is negligible because the company has been sourcing locally more and more of the raw materials it uses for feed.
Freight costs fallout
"This was in response to the Covid-driven disruptions. This is for every country not only US. We're more affected by freight costs for transporting feed, which have gone up dramatically," says Ortiz Johnson.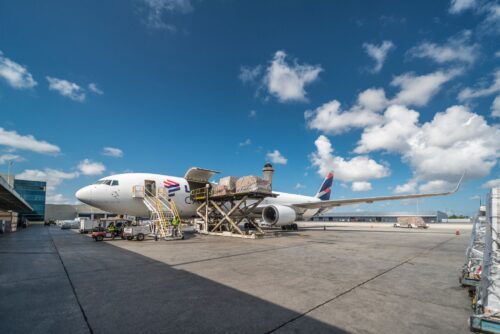 "Ocean freight increased by more than 400 percent in August 2021 compared to August 2020. Ocean freight remains high and very uncertain. Rail and land transport in the United States is up more than 20 percent this year versus last year."
Based in Skretting's US headquarters, Ortiz Johnson says the company ships feed by truck and by boat to its clients in Canada, where most of its clients are located.  "In the United States, some recirculation salmon farms, their feed is delivered by boat and truck."
US market
The stronger US dollar means that European companies and consumers will pay more for the goods and services they import, while European exports such as farmed salmon will become cheaper not only in the US but also in other overseas markets, like China.
"I think it would make the US market more attractive for European producers. Certainly that is the case when the USD is strong and the Canadian dollar is weak," says an industry consultant in Canada.
But Hicks of Taplow Feeds says that while this may be the case, the rising freight costs complicates matters.
He doesn't see the USD-euro parity having an impact on the Canadian market.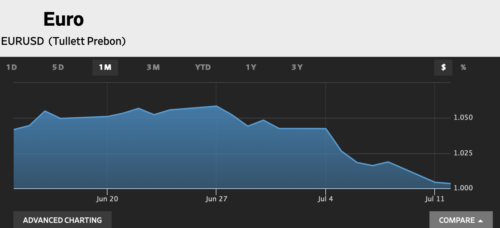 The euro has been weakening relative to the US dollar since the middle of 2021 partly as a result of the Russia-Ukraine war and the growing concerns that the 19 countries that use the euro will enter into recession because of it, say economists.